UMA International Trade Fair: Mukwano 2015 Best FMCG Exhibitor
12 October 2015 – 1:36pm
Mukwano Group's flawless display of a wide range of quality products, exceptional customer care and fantastic ambiance did not only impress our visitors but were a source of pride for Uganda Manufacturers Association (UMA), the organizers of the Trade Fair.
No wonder Mukwano was Best Fast Moving Consumer Goods (FMCG) Exhibitor at the 23rd UMA International Trade Fair that ended on October 11th at Lugogo in Kampala.
One of the leading conglomerates in East and Central Africa, Mukwano showcased its laundry bar soaps, detergent powders, toilet soap, cooking oils and fats, jelly, liquid detergent, natural mineral water, plastics and agricultural products.
Prime Minister Rt. Hon. Ruhakana Rugunda who was led to the Mukwano pavilion by UMA Chairman Mr. Amos Nzeyi and Minister of Trade, Industry and Cooperatives Hon. America Kyambadde was impressed as well.
"This is nice. Mukwano this is exemplary and you should even continue giving the consumers more products," remarked Rugunda. Mukwano Chief Executive Officer Mr. Tony Gadhoke received the Prime Minister.
We marked the closure of the trade fair with raffle draw in which Mr. Robert Mabala was the lucky winner of a motorcycle. Mukwano General Manager-Sales and Market Mr. Sangam Abdul Kader randomly picked the winning ticket.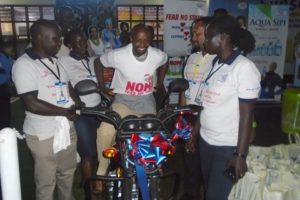 Robert Mabala(in Nomi T-shirt), Won the top prize of a bike in the Mukwano draw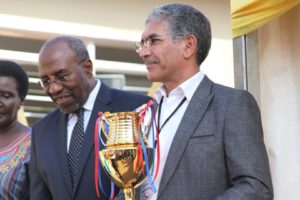 Mukwano Group, CEO, Tony Gadhoke with the Best FMCG Exhibitor Award
Badru Madrid who was one of Mukwano's biggest customers at the trade fair took home a 32′ TV screen and DVD player having entered 35 raffle tickets. For every Ush25,000 spent on Mukwano products a shopper was issued with a raffle ticket.
Doreen Amoit also won 32′ TV screen while Pauline Nalwoga and Judith Kamugambe each took home a DVD player.
A total of 94 gift hampers were also won by shoppers who entered the raffle draw at the Mukwano sponsored trade fair which ran for 10 days.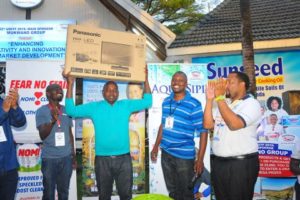 Mr. Badru Madrid who won a TV screen and DVD player being cheered by Mukwano staff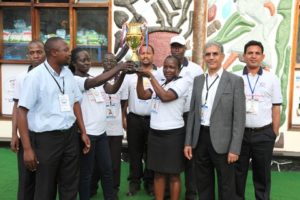 Mukwano CEO with staff after winning the Best FMCG Exhibitor award
Address
Plot 30 / P.O. Box 2671 Mukwano Road, Kampala
Mukwano Industries Uganda Ltd
Plot 30 Mukwano Road, 
P.O. Box. 2671, Kampala - Uganda