Mukwano Stars Shine in Corporate League
28 April 2014 – 2:00pm
Mukwano 0 Roofings 0
Mukwano 5 Royal Van Zanten 0
Mukwano 1 Darling 0
Mukwano 5 Standard chartered Bank 0
Mukwano 3 Spedag 1
Mukwano 1 Stanbic 0
Mukwano Stars put up a stellar performance in the Corporate League Soccer at Kyadondo Rugby Club on Sunday to get into confirm contention for 2014 title.
After a goalless draw with Roofings in their opening game, Mukwano Stars turned on the heat, winning the rest of matches.
Dan Mugalu, back from a long injury layoff, entertained spectators with dribbling skills before firing in the first goal.
Isaac Amanya followed up Mugalu's effort with a superb performance that yielded four goals as Mukwano Stars whipped Royal Van Zanten 5-0.
Next in Mukwano Stars firing line was Standard Chartered Bank who also swallowed five unanswered goals. Amanya scored a hat-trick, Grace Babirye added one before the bankers conceded an own goal.
Darling cheered by a sizeable group troubled Mukwano Stars in the first half before Ismail Bakiti silenced their fans with the lone strike of the match.
Motivated by the attendance of Mukwno Compliance Manager Chris Okweda and Human Resource Manager M/s Patience Agaba, the Stars went on to triumph over Spedag 3-1. Mugalu, Amanya and Joseph Muwanga scored for Mukwano.
The boys then wrapped up a fantastic outing with 1-0 victory over Stanbic Bank–thanks to a late winner by super substitute Stephen Wanda on his third touch of the ball. Wanda, a rare name on the score-sheet, rose to the big occasion when it mattered most.
Mukwano's unbeaten run in April puts them in confirm contention for the 2014 soccer title.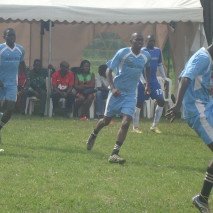 Address
Plot 30 / P.O. Box 2671 Mukwano Road, Kampala
Mukwano Industries Uganda Ltd
Plot 30 Mukwano Road, 
P.O. Box. 2671, Kampala - Uganda