Mukwano Sponsors Fashion Show to Fundraise for Cancer Equipment
12 September 2014 – 4:30pm
Mukwano Group of Companies has offered UGX 5m to the Runway Charity Fashion Show whose objective is to raise funds for the purchase of equipment for the cancer ward at Mulago Referral Hospital.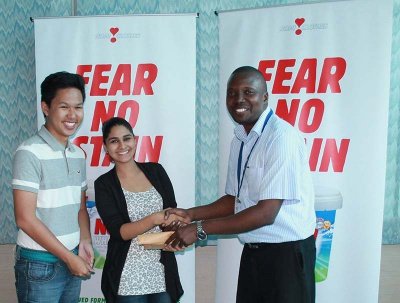 Mukwano Group PRLO Douglas Mazune hands over the sponsorship to Runway For Charity Directors Kiran Kaur and Justine Paolo
'Runway For Charity' will on Saturday September 13th stage a fashion show at Sheraton Kampala Hotel and all proceeds will go towards the purchase of equipment which will improve treatment of cervical and ovarian cancer.
M/s Kiran Kaur, who is playing a lead role in the Runway Charity Fashion Show, said that their target is to raise sh30m to purchase the equipment.
Mukwano Public Relations Liaison Officer, Douglas Mazune hailed the youthful team led by Kiran for being exemplary and appealed to others to emulate them.
"This charity event you are organizing is proof that youth in Uganda can, through their respective professions, contribute to the advancement of our society," Mazune remarked after handing over the money Runway For Charity directors Kiran and Justin Paolo at Mukwano.
Mukwano has over the years taken keen interest in Corporate Social responsibility (CSR) initiatives most especially in the health, environment, safety and sports.
Just two weeks ago Mukwano was one of the key partners in the Cancer Run which raised funds for the completion of the Cancer Centre at St. Francis Nsambya Hospital.
Mukwano is commitment to playing a role in the advancement of the communities through development and CSR initiatives.
Address
Plot 30 / P.O. Box 2671 Mukwano Road, Kampala
Mukwano Industries Uganda Ltd
Plot 30 Mukwano Road, 
P.O. Box. 2671, Kampala - Uganda