Mukwano Silver Sponsor for KCCA Kampala Festival 2014
24 September 2014 – 12:00am
For the love of our city, at Mukwano we are proud to be one of the sponsors of the Kampala Festival again. The highly anticipated 2014 Festival will be much more colourful, entertaining and one whole massive party for the city residents.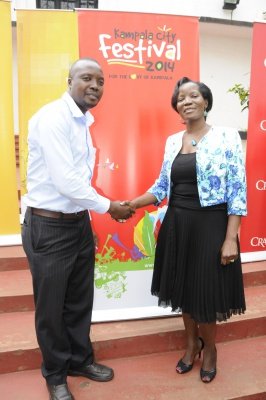 Mukwano Group PRLO Douglas Mazune meets KCCA Executive Director Jennifer Musisi
Our cameraman was present when Mukwano Group of Companies Public Relations Liaison Officer Douglas Mazune had a light moment with KCCA Executive Director Mrs Jennifer Musisi after a press conference at which Mukwano's sponsorship for the 2014 Kampala Festival was announced. Mukwano is a Silver sponsor for the KCCA organized Festival which will take place on October 5th. Musisi thanked all sponsors including Mukwano for giving Kampala residents a massive party to celebrate development of Kampala City.
Address
Plot 30 / P.O. Box 2671 Mukwano Road, Kampala
Mukwano Industries Uganda Ltd
Plot 30 Mukwano Road, 
P.O. Box. 2671, Kampala - Uganda