Mukwano Showcases Multiple Product Innovations
6 October 2014 – 2:00am
"Impossible is just a big word thrown around by small men who find it easier to live in the world they've been given than to explore the power they have to change it. Impossible is not a fact. It's an opinion. Impossible is temporary. Impossible is nothing," Muhammad Ali.
At Mukwano we do not only agree with boxing legend Muhammad Ali but we have demonstrated that impossible is not a fact but just a pessimistic opinion.
The transition from what we exhibited at the previous Uganda Manufacturers Association (UMA) International Trade Fair and what we have to offer now is tremendous.
His Excellency President Yoweri Kaguta Museveni tours the Mukwano Pavilion at the UMA Trade Show 2014 recently
An innovative and professional workforce and huge investment in technology coupled with our enthusiasm to surpass customer expectations has got us where we are. We have simply explored our might to take a giant leap ahead.
Aqua Sipi Mineral Water, Meditex Anti-bacterial Soap, Sunseed Sunflower Cooking Oil, New Nomi White Detergent, Shibe Fortified Maize Flour and Mama Laundry Bar Soap have all undergone new development.
We are elated by the rousing welcome our 2014 innovations have received from the market.
It was therefore not surprising that Aqua Sipi, Sunseed, Meditex, Nomi and Chapa Mukwano we all nominated and voted among Uganda's Top 52 Brands. The out was a result of 60% consumer SMS vote and 40% product survey commissioned by Private Sector Foundation Uganda (PSFU).
 Mukwano product development and innovations:
Aqua Sipi was reclassified as a mineral water and our range of bottles increased from three (500m, 1.5litre and 5litre) to six having recently added the 1litre, 10litre and 20litre bottles. The packaging has been revamped as well. Just like the 5litre bottle, the 10litre is handy, making it easy for shoppers to carry home or work place. Our 20litre bottles are the largest on the market which gives customers real value for money.
New Nomi White Detergent Powder has an improved formula plus perfume that puts consumers in a favourable position where they should fear no stain. It is packaged in both sachet and buckets. The new buckets manufactured by our robotic machine are lightweight but durable. The buckets have an inbuilt label and a firm seal that protect our customers from counterfeits.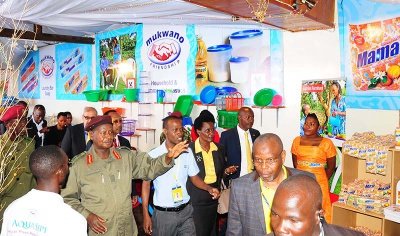 The president accompanied by Minister of Trade, Industry and Cooperatives, Hon. Amelia Kyambadde, being taken around by Mukwano staff during the UMA Trade Show
 Meditex Anti-bacterial soap was improved and rebranded. Meditex now gives consumers a broader choice to pick from, namely; Meditex Herbal, Meditex Lemon, Meditex Duo and Meditex Classic. All the above come in both 200g and 80g, which makes it affordable to consumers across income levels.
Sunseed Cooking Oil, Mama Laundry Bar Soap, Shibe Fortified Maize Flour, Chapa Nyota Laundry Bar Soap, Star White Laundry Bar Soap and Supa Multipurpose Perfumed Liquid Detergent have revamped packaging.
Mama Washing Detergent and Mama Multipurpose Scouring Powder:
It is a dynamic business environment we operate which inevitably calls for continuous improvement to keep pace with the ever changing consumer needs. We responded to consumers needs by introducing Mama Washing Detergent and Mama Multi-purpose Scouring Powder–an extension of the Mama brand range of products.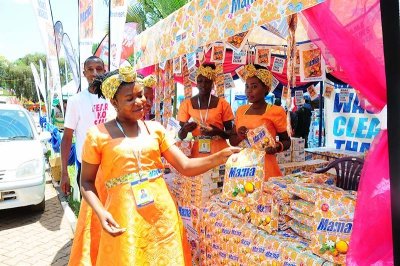 One of Mukwano's staff showcasing the all new MAMA detergent, scouring powder and bar soap at the UMA Trade Show
Mama Detergent and Scouring Powder have been well received on the market.
All the above products and many others under Mukwano Group will be exhibited at this year's trade fair–there is aplenty to see and we give you an opportunity for retail purchase so you try our products.
We have a new section where a wide range of plastics under the Eagle Rock brand will be exhibited. The list could fill up our allocated pages. I simply say we manufacture all plastic items ranging from domestic to industrial products. This year we have allocated ample exhibition space for plastics.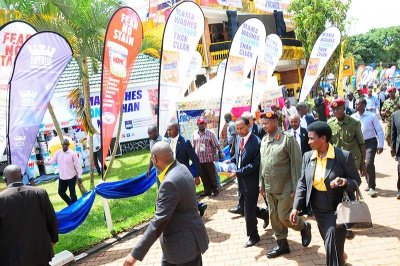 The president leaves the Mukwano pavilion after inspection
As an ISO certified company Mukwano is proud to manufacture Ugandan products that meet global standards.
Mukwano's quest for excellence never stops.
Address
Plot 30 / P.O. Box 2671 Mukwano Road, Kampala
Mukwano Industries Uganda Ltd
Plot 30 Mukwano Road, 
P.O. Box. 2671, Kampala - Uganda