Mukwano Props Up Aqua Sipi Mineral Water with Larger Bottles
18 September 2014 – 4:30pm
Mukwano Group of Companies has positively responded to its loyal consumers' demand for larger and bulk pack bottles of Aqua Sipi Mineral Water.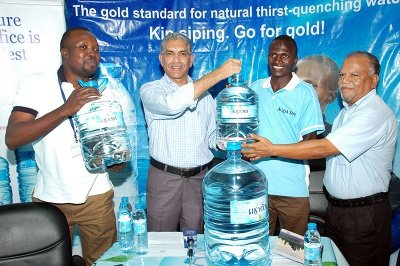 CEO Tony Gadhoke showing off the new Aqua Sipi 10 and 20 liters to the press with Aqua Sipi Brand Ambassador Stephen Kiptrotich
Mukwano invested in machinery for the production of 1litre, 10litre and 20litre bottles to satisfy a loyal customer segment that had developed a tendency for consumption of larger volumes of Aqua Sipi water.
"Over last one year Aqua Sipi loyal consumers have consistently given us strong feedback that they needed bigger bottles. They would like to share larger bottles of their favourite Aqua Sipi water with family, friends and colleagues at the work place. We had to invest in equipment to satisfy this positive consumer behavior which is certainly a vote of confidence in our brand," Mukwano Chief Executive Officer Mr. Tony Gadhoke stated at the launch of Aqua Sipi Mineral Water larger bottles.
With over 70 registered and unregistered producers of bottled water flooding the market, Aqua Sipi takes a superior position with high quality, handy packaging, recognizable branding and prides in the 20-litres bottle as the largest on the market.
The full range of Aqua Sipi bottles are comprised of the 500ml, 1litre, 1.5litres, 5litre, 10litre and 20litres bottles which gives customers liberty to consume as individuals, a group at the work place and as a household.
Olympic gold medalist Stephen Kiprotich, who is also Aqua Sipi brand ambassador, said he was proud to be associated with a reputable brand.
"I am very optimistic individuals, families and staff at their respective places of work will join me in sipping on Aqua Sipi which is now in larger bottles as well. The timing of this launch could not have been better as I plan for the New York Marathon in November. I will take my 20 litre bottles to my training camp," Kiprotich stated.
Kiprotich called upon Ugandans and his fans elsewhere in East Africa to reciprocate Mukwano Group of Companies' kind gesture to him by consuming Aqua Sipi Mineral Water.
Aqua Sipi is U.V treated and ozonated fresh mineral water which guarantees safety for the consumer.
Address
Plot 30 / P.O. Box 2671 Mukwano Road, Kampala
Mukwano Industries Uganda Ltd
Plot 30 Mukwano Road, 
P.O. Box. 2671, Kampala - Uganda