Mukwano donates defense supplies to Uganda hospitals.
10 September 2019 – 3:21pm
Mukwano donates to Uganda scouts Association Camp with; Chapa Nyota Brown 600gm, Nomi Bucket 60 x 45gm & Mukwano Vegetable Cooking Oil. Mukwano is dedicated to making a difference & supporting initiatives that enhance people's lives as part of our corporate social responsibility.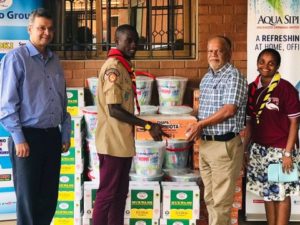 Address
Plot 30 / P.O. Box 2671 Mukwano Road, Kampala
Mukwano Industries Uganda Ltd
Plot 30 Mukwano Road, 
P.O. Box. 2671, Kampala - Uganda