Kiprotich Thrilled by Overwhelming Turn Up Legacy Programme
1 November 2014 – 2:00pm
Stephen Kiprotich took time off his preparations for New York Marathon to launch the Kiprotich/Aqua Sipi Legacy Athletics in Kapchorwa on Sunday and was thrilled by the overwhelming raw talent in Sebei sub-region.
Olympic gold medalist and world marathon champion Kiprotich left his training camp in Kenya to attend the launch of legacy programme intended to produce more gold medalists in Uganda.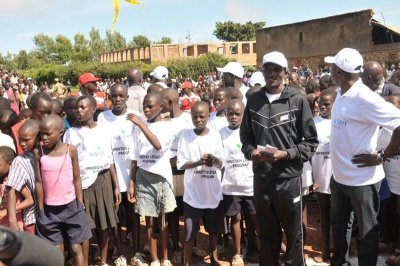 Kiprotich Legacy Kiprotich with children at the start
"My original plan was to groom 30 children from Kapchorwa, Kween and Bukua district in my Legacy Programme but the level of interest became so high. We ended up started with 105 in the first training camp. With the support of Mukwano Group of Companies and British High Commission we managed to sustain the children in the camp," Kiprotich stated.
There was a further upsurge when over 300 children registered 5km Kiprotich/Aqua Sipi Legacy Programme Run in Kapchorwa on Sunday.
"Over 500 enthusiastic children turned up today and we couldn't stop them. Many just turned up from home and have even performed better than those who in the training camp. There's plenty of talent here. Even the under-age want to run. I will go back to the drawing board to plan for the overwhelming numbers," Kiprotich said. The race was supposed to have children by 12 and 14 years the younger ones also participated.
Kiprotich Mukwano PRO Douglas Mazune, Territory Sales Executive Emmanuel Ayo and Sam Kiprotich and Winnie Chebet won the boys and girls categories of the 5-km Run
He encouraged children to work hard and always strike a balance between academics and sports.
"Today you must run to win. I want you to beat me in this race today," Kiprotich told the children before joining them in the 5-km Run. About 60m children run 5-km in less than 25 minutes.
Sam Kiprotich and Winnie Chebet won the boys and girls categories of the run and took home gift hampers from Mukwano Group of Companies. The top 20 girls and boys were rewarded with gift hampers.
Address
Plot 30 / P.O. Box 2671 Mukwano Road, Kampala
Mukwano Industries Uganda Ltd
Plot 30 Mukwano Road, 
P.O. Box. 2671, Kampala - Uganda