Kiprotich Hails Mukwano after Winning USPA Sportsman of the Year Award
28 April 2014 – 2:00pm
Olympic gold medalist and World Champion Stephen Kiprotich, has won a second Uganda Sports Press Association (USPA) Sportsman of the year award.
Kiprotich, the Aqua Sipi water brand ambassador, beat towering basketball star Peace Proscovia and National Motor Rally champion Jas Mangat to Uganda's most prestigious sports accolade.
Kiprotich who arrived at Imperial Royale Hotel for the glamorous event in his Aqua Sipi branded Toyota Rav 4 was the clear favourite to retain the crown he claimed in 2012.
Kiprotich who was accompanied by renowned Kenyan athlete Ezekiel Kemboi entertained guests with brisk dance strokes shortly before the Ugandan marathon runner picked his award from Speak of Parliament Rt. Hon. Rebecca Kadaga.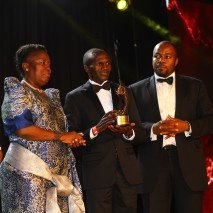 In his acceptance speech, Kiprotich thanked Mukwano group for supporting him and urged other companied to fund sports.
"When I won gold in the Olympics Mukwano identified me and started supporting me through their Aqua Sipi water and I was able to win the World Championship. I thank USPA for recognizing athletes and I am happy to receive this award again," Kiprotich stated.
He promised to win more gold medals for Uganda.
"This season has, so far, not been as good as I expected. I am still young I can still fly the Ugandan flag high on the international scene. I am already preparing for the 2015 World Championship and Olympics in 2016. The nation can still count on me," Kiprotich said.
Address
Plot 30 / P.O. Box 2671 Mukwano Road, Kampala
Mukwano Industries Uganda Ltd
Plot 30 Mukwano Road, 
P.O. Box. 2671, Kampala - Uganda